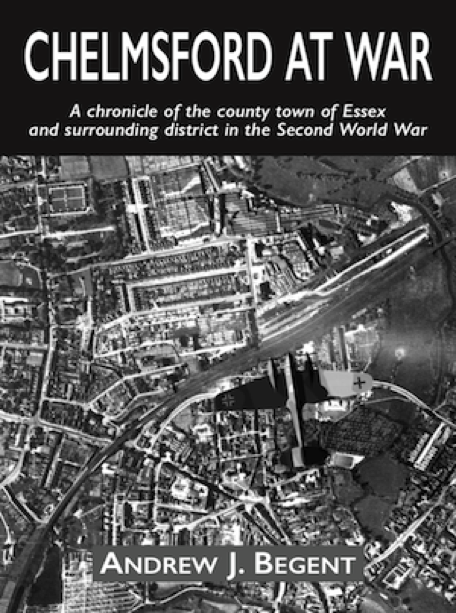 'Chelmsford at War' Book
New Edition Being Prepared
Your Contributions Sought
I am currently working on a revised edition of my succesful 1999 book 'Chelmsford at War' which provided a very detailed account of Chelmsford during the Second World War, and was one of the key stimuli for this website. The image opposite is of the first draft for the book's front cover.
I am pleased to report that a new heavily expanded edition of the book is in preparation with a target date of release in 2019.
The new edition will have more than three times as many pages as the original. It will have more illustrations, eyewitness accounts, a bigger index, and expanded details on incidents, events and the military presence in the Chelmsford area from 1939-1945 and the war's immediate aftermath.
in addition, I shall be sorting out one or two typos that have bugged me since 1999!
The new edition will use the same 'mock newspaper' approach that was used in the original, where my research was converted into hundreds of articles and laid them out to look like a newspaper and aid the reader who wanted to browse through the book.
Do you or family members have memories of the Chelmsford area during the war?
The original edition of the book benefited from reminisances of people who lived through the war which I collected through a series of interviews in the early 1990s.
I'd like to take the opportunity provided by the new edition to appeal for other people who have memories of the county town in the wartime period to contact me via the email address below-right and give me details of them so that those memories can be included in the new edition. Where necessary I am happy to visit people or contact them by phone to collect those memories verbally. The subjects of particular interest include:
The day the war broke out
Evacuees
The Home Guard (including the Rocket Battery)
Defences/Invasion Threat
Bombing Incidents
Battle of Britain
Doodlebugs & Rockets
Air Raid Shelters
VE Day & VJ Day
War Work (Hoffmann's, Crompton's & Marconi's)
The Americans
Wartime Spirit
Military Installations
Photographs of Wartime Chelmsford
I am also keen to include photographs taken in wartime Chelmsford in the new edition of the book so please get in touch too you have any of those via the email address to the right.
Many thanks
Andy Begent