Margaret Louisa ARNOLD, Civilian
Killed in an air raid at 10 Victoria Crescent, Chelmsford. Aged 18
Margaret Louisa Arnold was born in south London and by 1943 was living in Victoria Crescent with her mother and sister. All three were killed there in May 1943 during the 'Chelmsford Blitz' when their house was destroyed by a German parachute landmine.
mother and sister was not the only tragedy to befall Margaret's family during the war. Margaret's aunt Dorothy Violet Mengell of 70 Landells Road, Camberwell, and her daughter (Margaret's cousin) 8 year-old Beryl Dorothy Mengell were killed when a German V-1 flying bomb landed at the Co-op shop at the corner of Northcross Road and Lordship Road in East Dulwich on 5th August 1944. 21 others died in that incident.
150214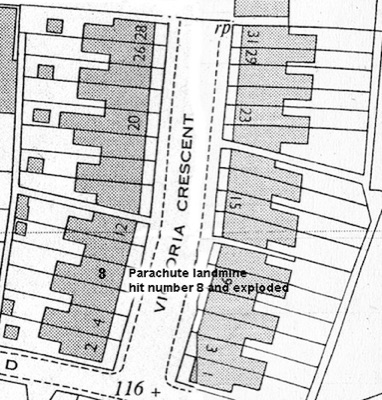 Several of those killed are believed to have been burned alive after being trapped in their Morrison shelters. Five other people were reported to have been injured in the incident.
The remaining six houses on the western side of Victoria Crescent, numbers 18, 20, 22, 24, 25 & 28, were seriously damaged. Across the road numbers 1, 3, 5, 7, 9, 11, 13, 15, 17 & 19 were damaged beyond repair, while the last six houses, numbers 21, 23, 25, 27, 29 & 31, were seriously damaged. In the streets close to Victoria Crescent, blast seriously damaged 17, 18, 19, 20, 21, 22, 23, 24, 25, 26, 27, 28, 29, 30, 31 & Homeleigh Cottage in the northern portion of Glebe Road; and 94, 96, 98 & 100 Marconi Road.
The loss of Margaret, her
Margaret was born in the Camberwell District of London in 1924, one of two daughters of Charles William Arthur Arnold and Lilian Annie Arnold (nee Mengell). Her father had been born in Camberwell, London in 1901. Her parents had married at St. Mary's Church, Peckham on 16th September 1918. Her sister was Lilian Ivy Arnold, born in Camberwell in 1919.
By 1943 Margaret was living in Chelmsford with her mother and sister, while her father was serving in the Royal Artillery.
In the early hours of 14th May 1943 Chelmsford experienced what was to prove to be its heaviest air raid of the war. In a sharp attack that lasted for just over an hour, the German air force, the Luftwaffe, dropped a large number of high explosive, incendiaries and parachute landmines which caused extensive damage to residential, commercial and industrial properties in the town, and led to the deaths of more than 50 people.
Among the dead were Margaret, her mother and sister, who along with eight others died when a pair of parachute landmines, apparently intended for Marconi's, narrowly missed the factory and struck residential areas. One fell to the north-west of the factory and scored a direct hit on 8 Victoria Crescent. The explosion there led to the deaths of nine people, the highest total from any incident within Chelmsford during the raid. Two others died when the other device exploded off Townfield Street.
The brunt of the blast from the Victoria Crescent landmine was felt by the terraced houses on the road's western side, with numbers 2, 4, 6, 8, 10, 12, 14 & 16, demolished. All the dead came from those properties: Gertrude Byford and her daughter Bessie Byford were killed at number 4; Margaret Louisa Arnold, her mother Lilian Annie Arnold and sister Lilian Ivy Taylor died at number 10; and George & Sarah Newman and their children Alfred & Elsie Newman were killed at number 14.