Harold Walter Bevers was born and raised in Heybridge. He maried in 1931 and had a daughter the same year. By 1941 he was living in Maldon and working for Marconi's in Chelmsford. He was one of 17 workers at the factory killed in May 1941 when it was bombed by a German aircraft.
Harold was born in Heybridge near Maldon in 1902, the son of George James Bevers and Eliza Bruce Bevers (nee Keeble). His parents had married in London on 2nd August 1897. Harold had an elder brother, George Edward Bevers, born in Heybridge in 1900, died in 1959.
Harold's father died in 1909, aged 37. Two years later the census found eight year-old Harold living with his widowed mother, brother and grandfather at 145 Woodfield Cottages in Heybridge.
He married Mabel Martha Quy in Essex in 1931 and the couple had a daughter. Mabel had been born on 1st December 1902 in Little Totham.
During the Second World War Harold was employed at Marconi's works in New Street. The factory was a frequent target for German bombers and it was during an air raid on Marconi's in the early hours of 9th May 1941 that Harold lost his life along with 16 of his workmates. A further 20 were seriously injured and 18 others slightly hurt.
At 2.22 a.m. a German Junkers Ju 88 aircraft approached the town. Eyewitnesses saw the raider clearly in the almost full moonlight, as it dived to within a few hundred feet of roof tops, released two bombs, circled and dropped two more, before rising rapidly and escaping towards the coast. Two of the bombs which were dropped scored direct hits on Marconi's, whilst another went astray and struck residential properties in Marconi Road which ran along the northern side of the factory killing two residents.
Fortunately the alarm had sounded at Marconi's and the 390 staff on the night shift had begun to take shelter. Of the two hundred or so employees in the machine shop the men there had taken shelter behind an internal blast wall, whilst the women had gone to the strong rooms below the main office building.
The bombs that hit Marconi's fell at the western end of the main factory building. One, thought to have been a 250 kg. DH High Explosive, detonated in the centre of machine shop which occupied the southern half of the building. Another, a 500 kg. DH High Explosive, fell on its northern half, through the first floor carpenters' shop and detonated on the floor of the SWB8 transmitter erection shop beneath it. This bomb ignited a drum of cellulose in the carpenters' shop and the fire rapidly spread across debris into the neighbouring paint spray shop. There dope was ignited and several men, who had survived the initial explosions, were trapped behind a blast wall and killed by the fire before rescuers could reach them. The fire was eventually brought under control by 5 a.m.
A third bomb that had struck Marconi's remained unexploded for a further three days until detonated in situ by a bomb disposal squad without causing any further casualties.
At the time of his death Harold was resident with his wife at 60 King Street, Maldon, while his widowed mother lived at 22 King Street, Maldon.
He was buried in Maldon Cemetery. A local newspaper reported:
"DEATH OF MR. H. W. BEVERS. The funeral of Mr. Harold W. Bevers, of 60 King Street. Maldon, who lost his life by enemy action, took place at the cemetery, following service at All Saints' Church, conducted Canon I. L. Seymour. The Rev. A. Goudge read the lesson.
The hymn "How sweet the sound," was sung. with Miss Andrews at the organ. The following members of the Promenade Lodge. R.A.O.B. lined the entrance to the church: Brothers Hayward. R.O.H. Sampson, K.O.M., Trollope, K.O M., Waldock, C.P. Layzell. C.P . Brady. C.P., Cobbin, C.P. Dawkes. and Morton.
Harold Walter BEVERS, Civilian
Killed in an air raid on Marconi s factory, New Street, Chelmsford. Aged 38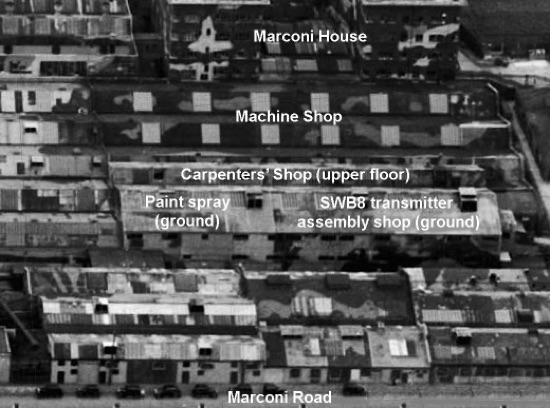 The Pride of Heybridge Lodge were represented by Sir F. G. Harvey, P.P.G.R., P C.R., and Bro. Quill, C.P. Others present were Messrs. A. Sach. C. N. Rule, J. Westrip. R. Hemmings. S Jones, D. Lee. and T. Smith, fellow employees: Miss Tuthill, Mrs. Flack. Mrs. W. J. Hatley. Mr. and Mrs R. Allen. Messrs. D. Ketcher. H Gozzett, Brewster, Nicholls. and Cole, Mr. and Mrs. L. Morton, Mrs. F. Morton. Mrs. Baxter. Mr. and Mrs. L. Scott, Mr. and Mrs. Robinson, Mrs Shuttleworth.
The mourners were : The widow and mother: Mrs. Hatley, Mrs. Morrison, aunts; Mr. J. Hatley. Mr. L Morrison, cousins : Mr. D. Mcavoy stepson; Mrs. Quy, mother-in-law; and Mr. S Quy. brother-in-law.
At the grave the R.A.O.B. funeral service was conducted Bro. C. F. Woodyard. C.P.P.G. Secretary, and the:Brethren formed a broken link and sang "Spirit of Truth." Among the floral tributes were those from the Night Owls Dance Band, friends at the Jolly Sailor. Promenade Lodge. R.A.O.B.; friends at Sadd's; fellow 'bus travellers; and the Company."
Harold left an estate valued at £237 16s. 11d. His widow died in 1997.
150220