Bessie was born in 1900 in Bradwell-on-Sea, the eldest child of James Townsend Richardson Byford and Gertrude Lily Byford (nee Shuttlewood). Her parents had married two years earlier in Essex. Bessie'sbsiblings included a brother, Francis James Townsend Byford (born in 1903 in Broomfield, died in 1956); Marjorie Gwendoline Byford (born in 1913); and Daphne Joy Byford (1918-2005).
In 1901 Bessie was listed by the census aged five months living with her parents in Stebbing. Her father was a retired farmer. Two years later she was living in Broomfield.
In 1911 the census recorded ten year-old Bessie living with her parents and brother at 24 Glebe Road in Chelmsford. At the time her father was a dairyman on a farm. Within two years the family moved to 4 Victoria Crescent, Chelmsford and in 1913 and 1918 her father's occupation was recorded as milkman.
In 1917 Bessie obtained a theory and elementary certificate in shorthand having studied at the East Anglian Institute in Chelmsford. A year later she obtained the speed certificate in shorthand after further tudy at the inistitute.
In 1928 she contributed 2 shillings and sixpence to the Mayor of Chelmsford's Miners' Distress Fund.
By 1943 Bessie and her parents were still living at 4 Victoria Crescent and Bessie, unmarried, was working in Chelmsford's Air Raid Precautions Control Centre, having worked as a senior typist in the accounts department at Essex County Council.
In the early hours of 14th May 1943 Chelmsford experienced what was to prove to be its heaviest air raid of the war. In a sharp attack that lasted for just over an hour, the German air force, the Luftwaffe, dropped a large number of high explosive, incendiaries and parachute landmines which caused extensive damage to residential, commercial and industrial properties in the town, and led to the deaths of more than 50 people.
During the raid a pair of parachute landmines, apparently intended for Marconi's factory, narrowly missed the factory and struck residential areas. One fell south of the factory exploding in between Townfield Street, Chapel Place, Mill Lane and Railway Street. The other parachute landmine fell to the north-west of the factory and scored a direct hit on 8 Victoria Crescent, leading to the deaths of nine people, including 42 year-old Bessie and her 62 year-old mother.
Two others died when the other device exploded off Townfield Street.
The brunt of the blast from the Victoria Crescent landmine was felt by the terraced houses on the road's western side, with numbers 2, 4, 6, 8, 10, 12, 14 & 16, demolished. All the dead came from those properties. Several of those killed are believed to have been burned alive after being trapped in their Morrison air raid shelters. Five other people were reported to have been injured in the incident.
The remaining six houses on the western side of Victoria Crescent, numbers 18, 20, 22, 24, 25 & 28, were seriously damaged. Across the road numbers 1, 3, 5, 7, 9, 11, 13, 15, 17 & 19 were damaged beyond repair, while the last six houses, numbers 21, 23, 25, 27, 29 & 31, were seriously damaged. In the streets close to Victoria Crescent, blast seriously damaged 17, 18, 19, 20, 21, 22, 23, 24, 25, 26, 27, 28, 29, 30, 31 & Homeleigh Cottage in the northern portion of Glebe Road; and 94, 96, 98 & 100 Marconi Road.
Bessie's father survived the incident.
Bessie and her mother's funeral service was held at the London Road Congregational Church on 20th May 1943, with burial afterwards at Chelmsford Borough Cemetery. Bessie is commemorated by the Essex County Council War Memorial at County Hall, Chelmsford.
A Chelmsford newspaper reported:
"THE DOUBLE FUNERAL of Mrs. G. L. Byford and Miss B. L. Byford, of 4 Victoria Crescent, whose deaths were reported last week, took place on May 20, service at the London Road Congregational Church preceding interment in the Writtle Road Cemetery. The Rev. H. Stock officiated.
Bessie Lilian BYFORD, Civilian
Killed during an air raid at Victoria Crescent, Chelmsford. Aged 42
Mr. H. W. H. Harvey, Mr. A. W. Greenwood, Mr. J. H Bover, Mr. W. A. Andrew, Miss Baker and colleagues of County Accountant's Typing Department, Mr. L. L. Edwards (General County Department), Miss A Shrimpton (Central Report Centre), Miss Clay (Chelmsford Gramophone Society), Major and Miss Wilks, Miss H. Sorrell, Mr. W. Harris, members of the Tuesday Meeting and London Road Bible Class and many other friends and neighbours
The floral tributes included those from: County Accountant and staff; office pals; members of the National Association of Local Government Officers; London Road Bible Class; the Tuesday Meettng; Central Report Centre; staff of Fred. Taylor and Co.; staff of Marks and Spencer; Gramophone Society. The funeral arrangements were by Messrs. A. J. Andrews'and Son."
Bessie's father died in 1955.
150304
Bessie Lilian Byford was born in rural Essex and arrived in Chelmsford by 1924. She worked as a typist in the County Accountant's office and then in the County Air Raid Precautions Control Centre in the basement of County Hall. She was killed in May 1943 during the 'Chelmsford Blitz' when her home in Victoria Crescent, Chelmsford was demolished by a parachute landmine. She was unmarried. Her mother was killed in the same incident.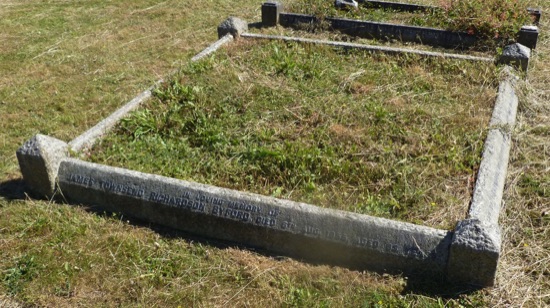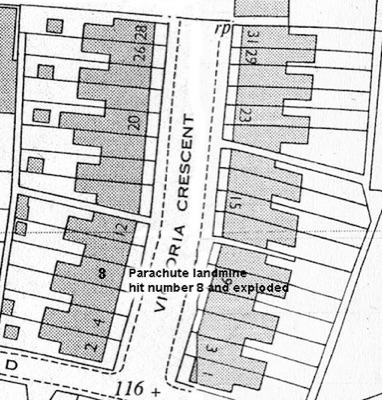 The mourners were: Mr. F. Byford, son; Mrs. Quinlivan daughter; Mr. H. Shuttiewood, brother; Mrs. F. Byford, daughter-in-law; Mr. Quinlivan, son-in-law; Mrs. Herbert Shuttlewood, Mrs. Harry Shuttlewood, sisters-in-law; Mrs. Huckson, Mrs. A. Smith, Mrs. Ratcliff, Mrs. Harrington, nieces; Mr. L. Shuttiewood, Mr. Ratcliff, Mr. Madle, nephews; Mrs. K. Russell, Mrs. Wainwright, Mrs. Carver. Miss Q. Smith, Mr. and Mrs. G. Moore, Mr. and Mrs. Swallow, cousins; Miss N. Brown, Mr. B. E. Wood, and Mr. and Mrs. Tom Steele, friends. Mr. J. T. Byford (husband) and Mrs. K. Hayes (sister) were unable to attend, owing to illness.
Others present were: Mr. H. Collis (county accountant), Mr. E. Sorrell (deputy-county accountant), Mr. F. Barrett,