Arthur John 'Jack' Gozzett was born and brought up in the Moulsham area of Chelmsford. After education at the town's Grammar School he worked for a High Street butchers and married in 1937 producing a daughter. Having joined the army he was killed in the German's massive air raid on London that marked the start of the Blitz on the capital. His wife and daughter lived in St. John's Road.
Arthur John GOZZETT, Private, Royal Army Ordnance Corps
Killed in an air raid at Woolwich. Aged 26
During the Second World War Jack served as Private 7628934 in the Royal Army Ordnance Corps. He was killed by a German air raid on 7th September 1940 at Woolwich in London, aged 26.
At that time his parents lived at 58 Lady Lane, Chelmsford while his wife and daughter were at 25 St. John's Road, Chelmsford. He left an estate valued at £1,813 10s.
On 14th September 1940 Jack's funeral service was held at St John's Church, Moulsham by the Rev. W. S. Brownless, followed by burial at Chelmsford Borough Cemetery (grave: 5259). Today his mother and sister lie in the adjacent grave.
Jack's widow remarried in Suffolk in 1944. She died in 2001.
His mother died in 1949; his father in 1965.
140702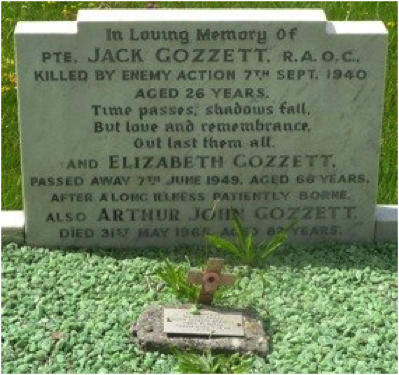 Jack was born in Chelmsford on 14th December 1913 the eldest son of the bricklayer and builder Arthur John Gozzett and Fanny Elizabeth Gozzett (nee Clinton). His father was Chelmsford-born, his mother from Birmingham. They had married in South Africa in 1905 and returned to England in 1908 with their new-born daughter.
Jack was baptised at St. John's Church, Moulsham on 4th January 1914. At the time his father was a builder, resident at Taqula in Mildmay Road, Chelmsford.
Jack's siblings were: Doris Gozzett (1907-1992), Edith Alberta Gozzett (1911-1986), Robert
William Gozzett (1916-1987) and Peter Horace Gozzett (1925-1998).
He was educated at King Edward VI's Grammar School in Chelmsford and later worked for Messrs E. L. Hunt, butchers of the High Street, Chelmsford.
Jack married Suffolk-born Leila Edna Mulley in Suffolk in 1937, and two years later the couple had a daughter, Janet, who died in 1969.