Elsie May NEWMAN, Civilian
Killed during an air raid at Victoria Crescent, Chelmsford. Aged 28
Elsie May Newman was born and brought up in Chelmsford. She was killed in May 1943, along with her parents and brother, when their house in Victoria Crescent was demolished by a German parachute landmine during the 'Chelmsford Blitz' in May 1943.
been burned alive after being trapped in their Morrison air raid shelters. Five other people were reported to have been injured in the incident.
The remaining six houses on the western side of Victoria Crescent, numbers 18, 20, 22, 24, 25 & 28, were seriously damaged. Across the road numbers 1, 3, 5, 7, 9, 11, 13, 15, 17 & 19 were considered damaged beyond repair, while the last six houses, numbers 21, 23, 25, 27, 29 & 31, were seriously damaged. In the streets close to Victoria Crescent, blast seriously damaged 17, 18, 19, 20, 21, 22, 23, 24, 25, 26, 27, 28, 29, 30, 31 & Homeleigh Cottage in the northern portion of Glebe Road; and 94, 96, 98 & 100 Marconi Road.
The four Newman victims were buried at Chelmsford Borough Cemetery on 22nd May 1943, with Elsie's parents in grave 5503, and Elsie and her brother in grave 5502. Their funerals were conducted by the Provost of Chelmsford Cathedral, the Very Reverend W. E. R. Morrow.
110726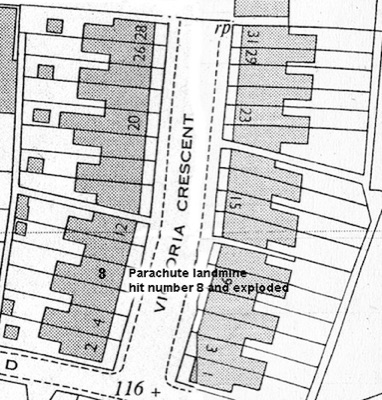 During the raid a pair of parachute landmines, apparently intended for Marconi's factory, narrowly missed the factory and struck residential areas. One fell south of the factory exploding in between Townfield Street, Chapel Place, Mill Lane and Railway Street. The other parachute landmine fell to the north-west of the factory and scored a direct hit on 8 Victoria Crescent, leading to the deaths of nine people, including 28 year-old Elsie, her parents and brother killed at 14 Victoria Crescent.
The brunt of the blast from the Victoria Crescent landmine was felt by the terraced houses on the road's western side, with numbers 2, 4, 6, 8, 10, 12, 14 & 16, demolished. All the dead came from those properties. Several of those killed are believed to have
Elsie was born in Chelmsford in 1914, the daughter of George Newman and Sarah Ann Newman (nee Stock). She was baptised at Chelmsford Cathedral on 6th February 1915. At the time her father was a woodwork machinist living at 24 Victoria Crescent.
Her parents had married at Chignall St. James in 1909. She had an elder brother, Alfred George Newman, born in 1910.
By 1943 Alfred, his parents and sister were living at 14 Victoria Crescent in Chelmsford, with Alfred employed as a fireman. In the early hours of 14th May 1943 the town experienced what was to prove to be its heaviest air raid of the war. In a sharp attack that lasted for just over an hour, the German air force, the Luftwaffe, dropped a large number of high explosive, incendiaries and parachute landmines which caused extensive damage to residential, commercial and industrial properties in the town, and led to the deaths of more than 50 people.