Sarah Annie Stock (later Newman) was born in London, the eldest child of a butcher. She was brought up in Chelmsford and in 1909 she married a sawyer at Chignal St. James where her father ran a pub; the couple going on to have a son and daughter. She was killed, along with her husband and children in May 1943 during the 'Chelmsford Blitz' when their house in Victoria Crescent was destroyed by a German parachute landmine.
Sarah Annie NEWMAN (nee STOCK), Civilian
Killed during an air raid at Victoria Crescent, Chelmsford. Aged 64
struck residential areas. One fell south of the factory exploding in between Townfield Street, Chapel Place, Mill Lane and Railway Street. The other parachute landmine fell to the north-west of the factory and scored a direct hit on 8 Victoria Crescent, leading to the deaths of nine people, including 64 year-old Sarah Ann, her husband, and their two children killed at 14 Victoria Crescent.
The brunt of the blast from the Victoria Crescent landmine was felt by the terraced houses on the road's western side, with numbers 2, 4, 6, 8, 10, 12, 14 & 16, demolished. All the dead came from those properties. Several of those killed are believed to have been burned alive after being trapped in their Morrison air raid shelters. Five other people were reported to have been injured in the incident.
The remaining six houses on the western side of Victoria Crescent, numbers 18, 20, 22, 24, 25 & 28, were seriously damaged. Across the road numbers 1, 3, 5, 7, 9, 11, 13, 15, 17 & 19 were considered damaged beyond repair, while the last six houses, numbers 21, 23, 25, 27, 29 & 31, were seriously damaged. In the streets close to Victoria Crescent, blast seriously damaged 17, 18, 19, 20, 21, 22, 23, 24, 25, 26, 27, 28, 29, 30, 31 & Homeleigh Cottage in the northern portion of Glebe Road; and 94, 96, 98 & 100 Marconi Road.
The four Newman victims were buried at Chelmsford Borough Cemetery on 22nd May 1943, with Sarah and her husband in grave 5503, and their children in grave 5502. Their funerals were conducted by the Provost of Chelmsford Cathedral, the Very Reverend W. E. R. Morrow.
Chelmsford's Centre Women's Institute observed a minute's silence for Sarah when it met later in the month.
150210
Sarah was born in St. Pancras, London on 17th November 1878, the eldest child of Great Bardfield-born Alfred Stock and Sarah Stock (nee Ruffell). She was baptised at St. James' Church in St. Pancras on 19th January 1879 at which time her father was a butcher at 76 Stanhope Street in St. Pancras. Her siblings (all born in Chelmsford) were Ada Alice Stock (1880-1946), Alfred John Stock (1881-1883), Emily Edith Stock (1883-1883), Albert Edward Stock (1885-1954), Thomas George Stock (1887-1959), Ernest William Stock (1888-1950), Harry Herbert Stock (1890-1949), Nellie Maud Stock (1891-1951), Florence Evernall Stock (1893-1893), Frederick Charles Stock (1894-1973), Ethel May Stock (1895-1962), and Dorothy Violet Stock (1898-1899). Four of Sarah's siblings were to die by 1911. Sarah's parents had married at St. Mary's Church in Chelmsford (today's Cathedral) on 14th April 1878).
In 1881 Sarah, aged two, was recorded by the census living with her father (a shop man in oil), her mother and sister in Primrose Hill, Chelmsford. The 1891 census found her aged ten living with her parents and five siblings at 3 Moulsham Street, Chelmsford where her father was an oil and colorman.
In 1901 Sarah, aged 22, was recorded by the census staying with relatives at The Elms Public House in Chignal St. James, a pub that her father took over in 1904. It may have been whilst there that she met George Newman, a native of the village, who she was to marry on 12th April 1909 at Chignal St. James. At the time she was 30 years old and living at Chignal St. James. Her husband was 31 years-old, employed as a sawyer, and also lived in the parish.
A year later Sarah bore a son, Alfred George Newman, and her father died. When he was baptised on 4th June 1910 Sarah's husband was working as a sawyer and resident at Glebe Cottage, Chelmsford. The Essex County Chronicle reported on Sarah's father's death:
Death of Buffalo Knight.—The death occurred on Nov. 9 Mr. Alfred Stock, licensee of the Three Elms, Chignall St. James, at the age 53. The deceased had been a great sufferer for a year or two from a gastric ulcer, which caused his death. He had been at the Three Elms about seven years, but was formerly in business Chelmsford. At one time was a prominent member of the Earl of Warwick Lodge, R.A.O.B. and was made a Knight of the Order, The deceased, who was native Bardfield, leaves a widow and nine children, most of whom are grown up. Both the Grand Provincial Lodge of Essex and the Earl of Warwick Lodge have passed resolutions of sympathy with the widow and family. The funeral took place on Wednesday, at the Rectory-lane Cemetery, the Rev. C. Y. Timbrell officiating. The mourners included the widow and the nine children. The Buffaloes were represented by Primos A. C. King, P.G.P., H. J. Knight, T. Seymour, Herbt. White, F. Stannard, and E. P. Yerbury. who dropped sprigs of ivy upon the coliin. P.c. Jeliis, an old schoolmate, and Mr. A. A. Barnaschiua were also present. Among the senders of wreaths were the widow and family. Aunt Lines. Brethren of the Earl of Warwick Lodge, Jack, Mr. and Mrs. Blanks and Widow Fewell, Betsy, Frances and Fred. and Mrs. Pervin."
After her father's death Sarah's mother took over the licence at the Three Elms.
In 1911 the census found Sarah living with her husband (a sawyer at a joinery works) and their son at 16 Glebe Road in Chelmsford. In 1914 he was followed by a daughter, Elsie May Newman. When she was baptised on 6th February 1915 Sarah's husband was a woodwork machinist living at 24 Victoria Crescent in Chelmsford.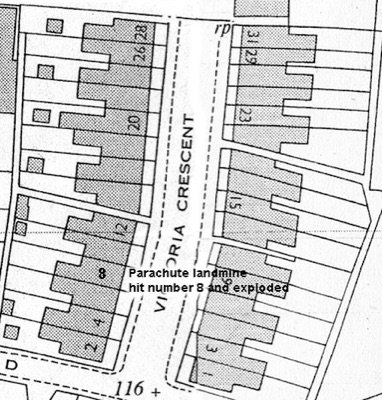 By 1943 Sarah, her husband, and children were living at 14 Victoria Crescent in Chelmsford, with Sarah's husband employed as a wood machinist and her son as a fireman. In the early hours of 14th May 1943 the town experienced what was to prove to be its heaviest air raid of the war. In a sharp attack that lasted for just over an hour, the German air force, the Luftwaffe, dropped a large number of high explosive, incendiaries and parachute landmines which caused extensive damage to residential, commercial and industrial properties in the town, and led to the deaths of more than 50 people.
During the raid a pair of parachute landmines, apparently intended for Marconi's factory, narrowly missed the factory and