John William Stoneham was born and raised in Chelmsford. In the early part of the war he worked in the County Council's AIr Raid Precautions Department and was a volunteer in the Auxiliary Fire Service. He joined the R.A.F. in May 1941 and was killed along with sixteen other men when their aircraft collided over north Wales. His home was in Vicarage Road and he was engaged to marry.
John William STONEHAM, Leading Aircraftman, Royal Air Force Volunteer Reserve
Killed in an aircraft accident in Caernarfonshire. Aged 27
In the early part of the war John was employed in the A.R.P. Department of Essex County Council and was a volunteer with the Auxiliary Fire Service. In May 1941 he joined the Royal Air Force where he was Leading Aircraftman (Air Gunner Upper Turret) with a service number of 1208585.
On 10th October 1941 John was one of 17 men killed in a flying accident at the R.A.F. Bomber Command training airfield at Llandwrog, Caernarfonshire in northern Wales when two Whitley aircraft (K7252 and K9041, both from 9 Air Gunnery School) collided with one another while circling the airfield.
K7252 flown by Acting Squadron Leader Herbert Victor Barker, had a corporal instructor, six pupils and a civilian flying instructor on board. K9041, flown by Flight Lieutenant Evelyn John Bentick Martin, had a sergeant instructor and six pupils on board.
John was 27 and single. At the time his parents were living at 16 Vicarage Road, Chelmsford. News of his death appeared in the Essex Chronicle on 17th October 1941 which reported:
"A young man of fine character, he had for some years been a valued member of the Y.M.C.A., and had taken part in dramatic plays. His younger sister is engaged on Voluntary Aid Detachment duties. The father is a member of the Brotherhood."
John's funeral had taken place the previous day, 16th October 1941, with a service at the London Road Congregational Church in Chelmsford preceding interment at Chelmsford Borough Cemetery (grave 5700). The service was officiated by the Rev. Herbert Stock.
At the time of his death he was engaged to marry Miss J. Chapman.
John left an estate valued at £214 9s. 4d. to his father, by then an engineer's shop foreman. His father died in 1973; his mother in 1982; his elder sister in 2004.
John was commemorated on the war memorial at London Road Congregational Church in Chelmsford (now demolished), and on the Essex County Council War Memorial at County Hall, Chelmsford. A tennis cups were also introduced as memorials to John by the United Young People's Societies in Chelmsford in 1942. They were presented for the first time in October 1942 by John's fiancee to Miss B. Godfrey and Mr. G. A. Wheeler.
150126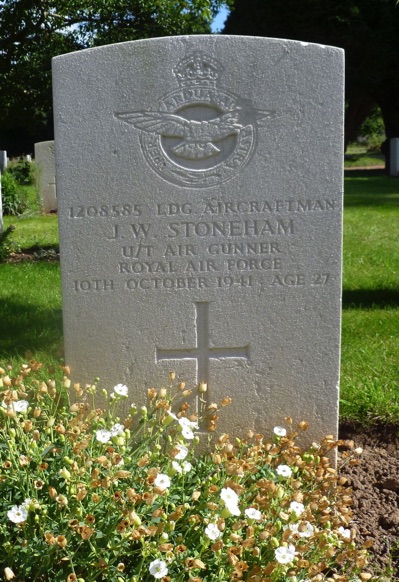 John was born in Chelmsford on 6th September 1914, the only son of William George and Laura Stoneham (nee Cockerill). His father had been born in Chelmsford in 1890; his mother in West Hartlepool, Durham in 1888. The couple had married at St. John's Church, Moulsham on 2nd August 1913. At the time John's father was a 23 year-old machinist living in Vicarage Road, Chelmsford. William's bride was aged 25 and lived in Wood Street, Chelmsford.
His paternal grandfather, George Stoneham, lived at Moulsham Hall Gardens off Vicarage Road for 41 years until his death in 1937.
John was baptised at St. John's Church, Moulsham on 27th September 1914. At that time his father was a mechanic living at 8 Vicarage Road, Chelmsford (today's number 16).
John had two sisters: Ivy Mary Elizabeth Stoneham, who was born in 1915 and baptised at St. John's Church, Moulsham on 12th September 1915; and Joan Margaret Stoneham, baptised at the same church on 29th January 1922.